The pandemic has given us a break and this summer we can finally travel, although with limitations and in compliance with the relevant security measures(Hotel cleaning). There are places where extreme precautions are essential: restaurants, car parks, supermarkets, commercial establishments… And, of course, accommodation. In this post, we are going to review what tasks are essential in times of coronavirus when undertaking the cleaning of common areas in hotels.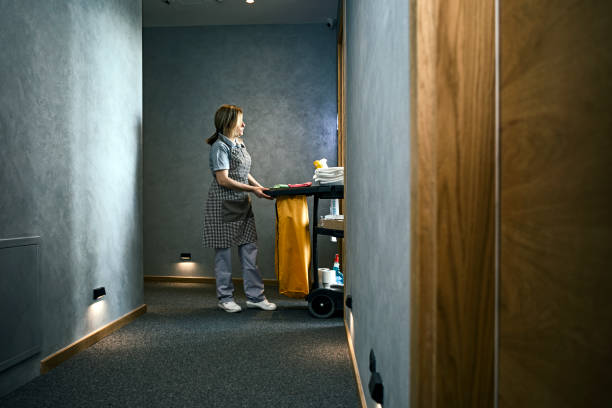 3 keys for cleaning common areas in hotels 
An impeccable room is the best letter of introduction for a hotel establishment. But if this cleanliness does not match that of the spaces in which guests live the rest of the day, all the effort will be in vain. Every corner must be resplendent because creating a good impression takes effort, but a small detail is enough to destroy it. To get everything under control, try asking yourself 3 questions.
What common areas do I have to clean?
The first thing is to define we must take which spaces into account. When cleaning common areas of a hotel, we cannot forget some permanent fixtures: corridors, elevators, reception, leisure and restrooms, game rooms, toilets, swimming pools, and stairs… among many others. Take inventory so you don't miss any. Patios, garages, and terraces, although they are not usually places of constant traffic, are also places that you should include on the list.
How often should I clean and disinfect each area?
Once you know the volume of rooms and spaces to be cleaned, the next step is to calculate how many people pass through them each day. This will give you an idea of ​​how often you should take care of each area. Keep in mind that there are places where dirt and germs accumulate more easily than others do.
When determining the frequency with which a hotel is going to be cleaned and disinfected, the use that users make of each space also influences. 
Should I hire a specialized cleaning company?
Unless your team has staff hired specifically for the deep cleaning of your hotel, the most common is to hire a specialized company. And more so in recent times, when the disinfection asks against the coronavirus forces us to be extremely meticulous.
Types of hotel cleaning
When undertaking the cleaning of common areas in a hotel, we can distinguish 3 types of processes:
Physical cleaning
Includes all manual tasks performed by employees using tools and products to remove dirt, scrub, rinse… Routine tasks such as mopping floors 
Chemical cleaning
It can be only manual or used machines, but what makes the difference is the use of chemical products. It is the type of cleaning that is carried out, for example, in the toilets of hotels and other public establishments, using sodium hypochlorite. 
Bacteriological cleaning
Bacteriological cleaning aims to eliminate pathogenic microorganisms such as viruses and bacteria. It is common to do it in toilets, shower trays, cold rooms, countertops where food is going to be processed… But given the risk of contagion by the coronavirus, we have extended this type of cleaning to all surfaces. In rooms and common areas, not a corner, is spared.
A bacteriological cleaning combines manual procedures with other mechanical and chemical products. Cleaning with ozone or ozonization machines so mentioned in recent months in the thread of covid is a clear example. Hundreds of people frequent a hotel every day. People who use the services and common areas repeatedly. Every time they do it, they must feel that they are opening them. But now, in addition, they must be sure that they are totally free of viruses, especially Covid-19.
And we achieved this with exhaustive professional cleaning and disinfection, being extremely conscientious with each space, and following the advice in this post. We will assure you they will facilitate the important and sometimes relegated cleaning of common areas in hotels.