Many patients pass through the dentist's office throughout the day. This means constant exposure to body fluids, which carries a serious risk of cross-contamination. If this happens, the health of patients is in harm's way, but also that of health personnel and even more so in a situation of a full pandemic like the current one(Dental clinic cleaning). That is why it is vitally important to follow a rigorous professional cleaning and disinfection protocol for dental clinics.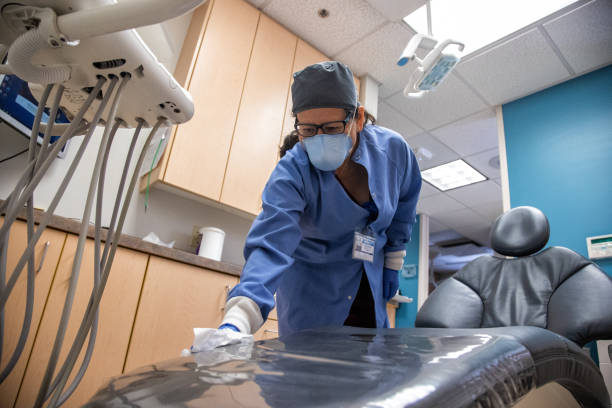 Below, we explain what is the disinfection process to minimize the risk of disease transmission.
Types of dental cabinet materials
We used different utensils in the dental office to perform dental examinations of patients. We can classify these materials into three different categories depending on the risk of infection arising from their use. Depending on the category in which they are, the level of disinfection will vary.
 C
ritical material
In this group are all tools with a high risk of infection. These are the ones used to penetrate directly into the mucous membranes of the oral cavity, and the surgical instruments used in surgeries and other dental treatments. All the material that belongs to this group needs sterilization compulsorily and follows the protocol.
 S
emi-critical material
The instruments related to this group are all those that are in contact with saliva or blood but that is not used to pierce any type of tissue. For example, we consider mirrors and spatulas semi-critical materials, as they are likely to be in contact with viruses and bacteria.  They must also need sterilization regularly.
 N
on-critical material
Finally, in the group of non-critical materials, all those instruments that have a low risk of contamination are brought together. The danger of being infected derives from contact with the hands of the dentist or the patient during the care process. That is why the use of disinfectants is necessary to ensure proper cleaning. To this group belong the dental chair, the lamp, the X-ray equipment, etc.
Cleaning and disinfection protocol in dental clinic
Because of this risk of cross-contamination, we regulate sterilization processes. This leads to the existence of a single dental clinic cleaning and disinfection protocol to be followed for all medical devices. And whose aim is to ensure that we consider dental clinics one of the cleanest spaces there can be.
The management of each center will establish its own cleaning protocol, and this will follow the guidelines shown by law. We must specify it how the disinfection tasks need organization, what products we are going to use and under what methods on how are we going to use them, as well as the materials that need regulation for these processes. You also have to detail how often these tasks are performed, how they will be put in documentation, and what the functions of each employee will be. In addition, appoint a professional from the center as responsible for the sterilization tasks and this will be in charge of supervising that they are being carried out correctly.
Cleaning service for dental clinics
Besides the instrumental sterilization that the dentists themselves must carry out, it is also necessary to carry out a complete cleaning of the dental clinic. For this, it is necessary to clean all the spaces of the clinic, such as the reception or the waiting room. Daily cleaning, after working hours, and all surfaces, including floors and walls, must be thoroughly cleaned. And in this case, it is best to have a professional cleaning company that guarantees complete disinfection.
At SCS Group Cleaning, we know that in places such as dental clinics or hospitals; it is necessary to require extra cleaning to minimize the risk of contagion. That is why we provide solutions to match, to offer you guarantees that we carry out a complete cleaning. We guarantee the protection of both professionals and patients.
Cleaning materials in a dental clinic
It is essential to equip yourself with rubber gloves before starting the cleaning and disinfection tasks. As for cleaning materials, it is best to use disposable products and if this is not the case, they should pass through disinfection before leaving and once the cleaning is over.
The materials used are:
Cloths

buckets

buckets

mops

brooms

Alcohol-based disinfectant products
Order and cleanliness in dental clinics
The most effective method to ensure complete cleaning is to start with the cleanest areas and work your way up to the dirtiest. We must carry the disinfection of surfaces out after each session. It is very important to ensure that areas where splashes are likely to reach need covering using clear film. After attending to each patient, change the film and end up at the disposal in a specific bucket for it.
The assurance of cleanliness of non-replaceable and non-sterilizable instruments. Here, a cloth is moist with alcohol-based disinfectants, and then the moistened area dry it with a clean cloth. In the armchair's case, it is very important that all parts, headrests, and remote control keys need disinfections.
We must pay close attention to the common areas, especially in the current situation. That is why it is necessary to carry out the correct ventilation of the space and apply disinfectants to all areas. In all cases, a professional cleaning company like the SCS Group is the most suitable option for a clinic that is always impeccable and safe.