Tech
Top-notch Customer Experience with Video Call API Integration For Bankingedito
Video call APIs for banking mobile apps are becoming increasingly popular as the banking and financial sector is now aware of the responsive ways to communicate with their client base. This necessity and the simultaneous increase in the popularity of messaging apps, live chat, and other technological developments have put the sector of banking and finance under pressure.
Banks have realized that to stay in the game and rule over the race to retain customers, they have to provide a platform for direct, immediate, and personal communication. This is where implementing chat, voice, and video calling API into your banking solution is getting better and better to give you a refined banking experience from anywhere, delivering a secure and feature-rich communication platform.
Integrate communication features to improve your Bank customer experience
Offering a customer-centered communication experience is not about adding fancy add-ons. Social networking and messaging apps are here to stay and transform industries, including banking for the better.
Live chat, text messaging, and voice and video calling provide an irreplaceable means to facilitate contact, enhance customer experience, and save time and expense.
Here are some use cases of how real-time communication features can help improve your customer relations:
Responsive customer care
Integrating communication features for live video calling SDK for the finance app and into your banking platform makes a complete and responsive customer care module. Additionally, the integration of live chat on the website or mobile app offers instant access to chat for clarifications and information exchange. It's fast, efficient, and also cost-effective.
Instant messaging provides customers access to information, authorization of transactions, and request advice at their convenience. Voice and video-calling features fully personalize the banking experience.
Live chat, messaging, voice or video calls facilitate fast seamless communication that leaves customers feeling happy as they feel important.
Know Your Customer (KYC) Compliance
Banks and financial institutions are required to be KYC-compliant by law. This requirement has brought the need to digitize this process. Adding a communication functionality like instant chat enhances the KYC procedures. Processes like file-sharing, including photos and pdfs, and secure messaging can be archived to ensure customer identity verification processes. Digitization offers multiple benefits like efficiency, and cost-effectivity while being end-to-end encrypted.
Notifications to facilitate and close transactions
Push notifications to provide help with transactions like opening a bank account, applying for a loan, and setting up a commercial trade or an investment fund, etc.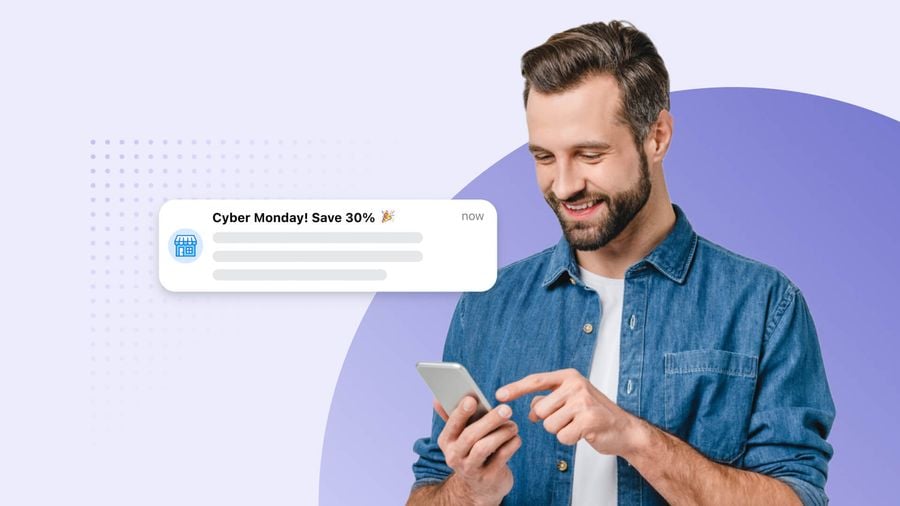 Customers will get personalized notifications about the processes they are involved. This type of communication keeps customers informed of the status of their processes. This allows them to feel secure and supported throughout their banking journey.
Why Use CONTUS MirrorFly?
CONTUS MirrorFly is an instant messaging solution for enterprises to integrate or build scalable chat platforms with message, voice, and video calling features.
CONTUS MirrorFly is the name that is entrusted with building video chat APIs for banking platforms. It is a one-of-a-kind advanced native messaging solution that offers APIs & SDKs for building Android, iOS, and Web apps.
The cloud offering entails varied communication features like instant chat, video & voice calls, screen sharing, video conferencing, and many more across niche apps. Also, the enterprise solution is standardized with end-to-end encryption, HIPAA, GDPR compliance, and in-app chat moderation for a powerful and secure messaging experience.
Integrating live chat, text messaging, voice, or video functionality into your banking platform allows you to build a powerful communication solution for your bank or financial institution and
provides the feature-rich chat API and voice and video calling capabilities that you require. MirrorFly ticks all of these boxes
Highlights of MirrorFly Real Time Chat Solution
Real-time Chat
Integrating live video chat API into  banking apps
Build video chat solutions for banking apps
Live video chat SDK
HQ Voice Calling
HD Video Calling
Secure Video Conferencing
Push Notifications
Geolocation Tracking
Multimedia Sharing
Push-to-talk
Chat Analytics
Auto Translation
Multilingual
End to End Encryption
Highlighted Features of CONTUS MirrorFly
Private Cloud and On-premise Deployment
CONTUS MirrorFly offers a range of secure hosting options, on-premise and private on-cloud. This makes deploying their communication software into the hosting environment directly with a private virtual machine or physical servers, or private cloud. This gives you control over your customer's data.
Private and Secure communication
CONTUS MirrorFly is the best voice call solution for the banking industry working hand-in-hand with your information security team to ensure that all procedures are according to international banking standards. It also prevents security and compliance breaches. All chats & media files are secure as MirrorFly supports HTTPS protocol with their API and they provide data encryption.
Feature-rich and ready-to-use API and SDKs
CONTUS MirrorFly can be easily integrated into your existing app. It enables your app to be used across multiple platforms across devices like desktops, tablets, and mobile phones.
It offers secure access to peer-to-peer voice and video call integration, high-quality video conferencing, push notifications, media-rich file sharing, real-time chat, and instant messaging.
Conclusion
Integrating chat, voice, video API, and live voice calling API into your banking communication platform is crucial to delivering an uninterrupted and great customer experience.
Adding instant, responsive and continued communication features allow you to build an optimized customer care system.  A system such as this supports KYC compliance while facilitating transactions, and being time-savvy and cost-effective.
Live video call API is the way to go in the upcoming years. This builds trust and the ability to handle your organization and your customer base. Consider partnering with CONTUS MirrorFly to stay with the regulatory requirements for banks and financial institutions while accessing on-premise hosting options for your software.