One of the difficult developments that occurred as a result of the pandemic is that many pupils and students must now cope with attending online classes rather than regular classrooms to study. Despite being safe, parents and teachers are having difficulty getting their pupils to focus in class, especially while virtual classes are in session.
Allowing pupils to play educational kids' games directly on their PC is an excellent method to keep them focused, especially for children aged three and up. These games are designed not just for fun, but also to assist pupils better understand their lectures. So, if you want to play these instructive kids' games, this list might assist you.
Top 8 Educational Kids Games
Here are some of the top educational kids games to try with your pupils or youngsters.
1. KIDS PRESCHOOL LEARNING GAMES
Kids Preschool Learning Games is the first on the list of the finest educational games. It is a fun and engaging game that is ideal for first-year students such as kindergarteners and toddlers. It's a game in which students can learn more about the fundamentals, such as the ABCs and numbers. This game, however, contains 25 games in addition to ABCs and numbers. For example, there are games based on shapes, colors, animals, fruits, and even rudimentary spelling.
With its unusual colorful graphics and interesting musical effects, this game will undoubtedly capture your baby. So, if you're seeking for an educational game to improve your child's memory and attention, this game is ideal.
2. BODY PARTS FOR KIDS
Body Parts For Kids is the next instructive kids game you should play with your child. If you're having problems educating your child about body parts, you should try playing this game with them. This game explains basic bodily organs, parts, and even bone construction. Furthermore, it teaches young people how to pronounce each body part correctly while having fun.
It also includes numerous mini-games for your child to play, such as coloring games, dressing up games, and many more. It's a fantastic game that improves your child's education and visual skills.
3. TUTOPLAY
Tutoplay is another thrilling and engaging game that your youngster can play. This game allows your child to play more than 20 games on a single platform. Furthermore, it is an excellent game that can keep your children entertained while also teaching them. Your youngster will undoubtedly appreciate this program because it contains a plethora of games that they may play to expand their knowledge.
Simple arithmetic games, dress-up games, and more games can be found here. Each game has a distinct theme and set of objectives.
4. ANIMAL FARM FOR KIDS – LEARN ANIMALS FOR TODDLERS
Animal Farm For Kids has joined the list of the top educational games. Who said learning about animals had to be dull? Your preschooler will have a great time learning about different animals while performing farm chores online in this game. Furthermore, your child will learn about animals, vegetation, and other topics on a farm.
If you want to help your child develop mental skills and become acquainted with basic duties such as feeding and bathing animals, etc. This game has 15 educational games that will help your youngster develop their creativity, curiosity, and imagination.
5. LITTLE PANDA MATH GENIUS – EDUCATION GAME FOR KIDS
If you're looking for an educational game that will help your youngster answer math problems, you should try Little Panda Math Genius. Let's face it: math is everywhere, and we're not going to get rid of it. You may teach your youngster about Math in a more exciting way by using this game.
Furthermore, this game will only teach your youngster the fundamentals of addition, subtraction, and other math concepts in an entertaining way. With its superb animations and remarkable effects, your child will undoubtedly enjoy playing this game and forget about hating Mathematics.
6. ABCYA! GAMES
The ABCya! Games come in sixth place. There's also an ABCya website, where millions of parents, teachers, and children go to play educational games. But not with Games. There's no need to visit that website because you can play a variety of entertaining and educational games right on your computer.
Aside from that, your child can enjoy over 250 educational games and activities in this game, which will increase their knowledge and attention. These games are tailored to your child's ability level and grade level. What's even more amazing about this game is that it's updated monthly, with new games and material.
7. MATH GAMES, LEARN ADD, SUBTRACT, MULTIPLY & DIVIDE
Math Games, Learn Add, Subtract, Multiply, and Divide is another instructional game that helps improve your child's mathematics skills. As the title implies, your youngster will learn the four basic operations in an interactive and interesting manner. With its six game modes, it's no surprise that your child will be a great mathematician in the future and consider Math as an enjoyable subject to learn with. Even parents can put their arithmetic skills to the test by attempting difficult quizzes, sudokus, and other games. You may also increase your child's competitiveness by allowing them to compete online with other gamers.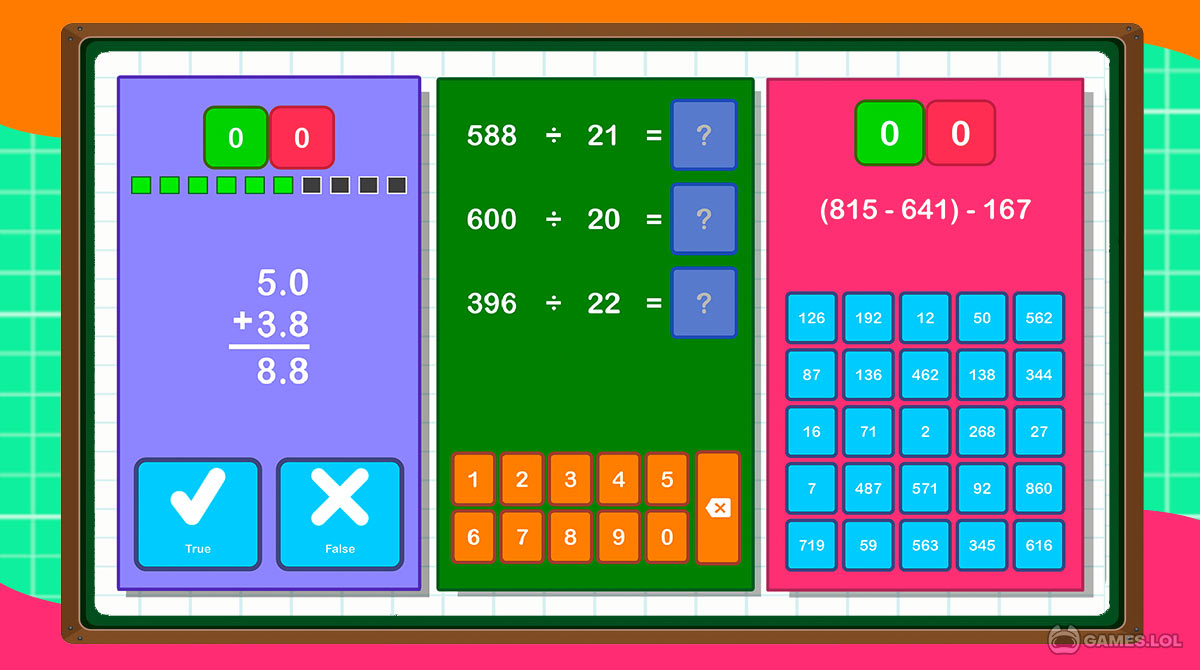 8. VLAD & NIKI. EDUCATIONAL GAMES
Last but not least, your child should try playing the Vlad & Niki. Educational Games. It is a game with many puzzles and inventive activities that will improve your child's concentration, logic, memory, and learning abilities. Furthermore, most of the games in Vlad & Niki are about forms, colors, and sizes. Some puzzles concentrate on math and word issues.
Furthermore, this educational game is highly recommended for first-year students who struggle with focus and recall. Your youngster will undoubtedly love studying while improving their attention and analytical skills because to the charming animations and vibrant visuals.
Access Word Hurdle to play more interesting games!