Summary: In this write-up, we will discuss the secure way to export OST to PST without Outlook installation. If you are among those who want to convert OST to PST without Outlook installation, then read the complete article.
The OST file is a copy of an Exchange mailbox's data that is saved locally on the system. When Exchange Server is inaccessible, its mailboxes can be accessed through its copy OST file in Outlook's offline mode. Because of the local OST file placement on the system disc, these OST files are always subject to damage and errors, but they are unaffected by the Exchange Server's health. It works on the same computer with the specified Exchange Server but refuses to open in OST format on another machine Outlook programme when the Exchange Server is either not configured or is a different one. As a result, transporting OST to another machine in the same format is not feasible. That could only be feasible if we convert OST.
Why should an OST file be Exported to a PST file?
But why are we considering OST file conversion? What is the necessity for conversion?
Reasons to export OST to PST without outlook installation.
Exchange Server has failed.
The Exchange Server is being service.
Exchange mailboxes require backup.
OST data movement to another system
Accidental deletion of Exchange account and data
The Exchange OST file is too large.
Database corruption on Exchange Server
Remaking an OST file
Let us look at several scenarios in which converting an OST file to a PST file is the best option for the user.
#1. Expanding OST File Size
OST files are large enough to hold large amounts of data from Exchange mailboxes. However, in some cases, the data expands numerous times each OST file copy, and this must be manage. This necessitates the need to archive OST file elements and preserve them on the system in PST file format.
Solution
This manual approach, archiving of OST file items, necessitates the use of Outlook's Auto Archive Settings function. Navigate to File > Info > Options > Advanced > AutoArchive Settings in the Outlook programme. The user may choose the number of days during which archiving will occur, as well as the destination location for storing archived OST data into PST files. Contacts, however, cannot be save using this method.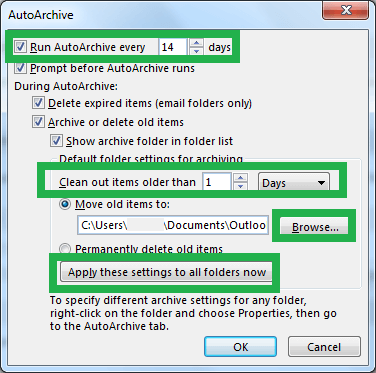 #2. The OST Gets Orphaned
An OST file become orphan when its Exchange account is destroy, crash, damage, corrupt, lost, or render unavailable due to maintenance. The OST file cannot be open without a healthy, configured Exchange Server account and must convert to PST format, which necessitates the use of the Outlook programme once again.
Solution
If you had an OST file setup in Outlook through Exchange Server (OST is not orphan) and it was accessible by utilising cached mode and Outlook settings, you may convert it using these two techniques.
Users can establish a new Outlook profile to save OST file contents to a new profile PST file by dragging and dropping specific folders such as OST Inbox to PST Inbox 1, OST Drafts to PST Drafts 1, and so on.
Another option to export OST file to PST format is to use the Export function in the Outlook programme. The procedure is time-consuming, takes concentration, and can result in failure at times. It necessitates an Exchange Server connection to the Outlook programme. Furthermore, this approach exports only the email content to the PST format, avoiding the export of folder attributes and permissions.
However, no manual conversion methods are available for orphaned OST files. Almost every manual method entails the usage of the Microsoft Outlook programme to transfer OST files to PST files, which is not always require by the user.
So far, we've addressed the necessity to export OST to PST file conversion and the various ways for doing so. All solutions need Outlook programme to execute the conversion and are not totally safe and trustworthy. These solutions have various restrictions, such as mailbox item constraints, configuration OST file size limitations, complexity, slow procedures, and so on, and do not meet the user's expectations for safe and speedy conversion. However, our goal here is to present you with a safe, dependable, and rapid solution conversion that does not require Microsoft Outlook or Exchange Server. Let us concentrate more on that.
Alternative Solution to Export OST File to PST Without Outlook
We offer a professional solution for you to export OST to PST without Outlook, the OST Converter programme. This programme does not require the Outlook application interface for conversion; instead, it requires simply an OST file. You may install it on your machine after downloading the free version or purchasing the full version from its website.
Please let us know how it export OST file to a PST file without using Outlook by following the procedures below.
1. Download and install the SysConverter for OST on your machine.
2. Go to the menu and choose Open >> Email Data File >> OST File >> Choose File from Folder.
3. Select PST as the Export format.
4. Finally, navigate to the directory where you want to save the converted file and click the Save button.
Done! Here you complete the process, now you can access your OST file data in different Outlook profiles with ease.
Summary
The significance of OST files and the need for their conversion to PST file format is clearly describe, along with the reasons for doing so. Some manual solutions with Outlook conversion requirements is discuss here, along with their limitations. The last half of this article is secure by the effective Best OST to PST converter, which requires no Outlook programme for complete proof and rapid OST file to PST export.